A reliable name to ally with for availing FRP Security Cabin, Nursery Combo Playground Slide, etc.
About Us
We, MTC Fibrotech, are a widely-recognized manufacturer and supplier of FRP Security Cabin, Small Penguin Dustbin, Green Gym Air Walker, FRP Spiral Slide and Nursery Combo Playground Slide, of unmatched quality. Being a customer-oriented business, our focus has always been to impress our customers by offering them the best, be it in the form of products or services. Understanding that customers need good customer care service along with qualitative products, we expanded our boundaries to be a service provider and began rendering FRP (Fiber) Lamination Work Installation Service to them at equitable prices.
Carrying out different business activities has never been an easy job, but we with our strong belief to retain our leading position in the market, have been doing everything systematically. Following a systematic work approach supports us in executing our business tasks efficiently without letting us compromise on our work quality.
Quality
Quality has always been the basic parameter for a customer to judge a product on. This is being the reason, maintaining the quality standards of manufactured is the primary objective of our company. And, to make it happen in the most appropriate way, we aim to address different aspects of quality management through ISO standards. By performing conformity assessments against the guidelines of ISO 9001, we have well-maintained the quality of our FRP Spiral Slide, Nursery Combo Playground Slide and other products. As a result, we have been honored with ISO 9001:2015 certification.
Why Us?
Since, we seek to sustain our business success while ensuring our customers have strong confidence in us, we emphasize on the following:


Maintaining positive work environment where our employees can go on professional level.
Investing in modern resources, thereby, leading to enhanced production rate.
Maintaining a fair balance between the price and quality of our FRP Spiral Slide and other products.
Maintaining transparency in our business deals for earning the trust of our customers.
Addressing the areas of improvements and working on those to be better.
Making optimum use of all the resources to prevent waste generation.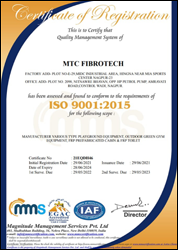 Get in touch with us